June 1, 2019
Charlton 5k
Run & Walk
Welcome to the Charlton Heritage 5K Run and Walk!
Our race is held annually on Founders weekend and celebrates the founding of the Town of Charlton, NY. The race is just one of many fun and entertaining events scheduled for the Town of Charlton Founders weekend.
The race benefits the Charlton Historical Society and its mission to preserve the historical buildings and artifacts in the Town and to educate all who are interested in the history of our community.
The 5K course is a challenging mix of rolling hills and flats through the picturesque back roads of this sleepy rural Saratoga County hamlet. We start at the Old Red School House and complete the out and back course to finish at the beautiful St. Paul's Church built in 1804.
Race Day
Saturday, June 1, 2019
10:00 AM
Location
Race Start: Red School House
Charlton, NY

entry Fees
$25 Post Marked on or before May 21, 2019
$30 After May 21
Proceeds benefit the
Charlton Historical Society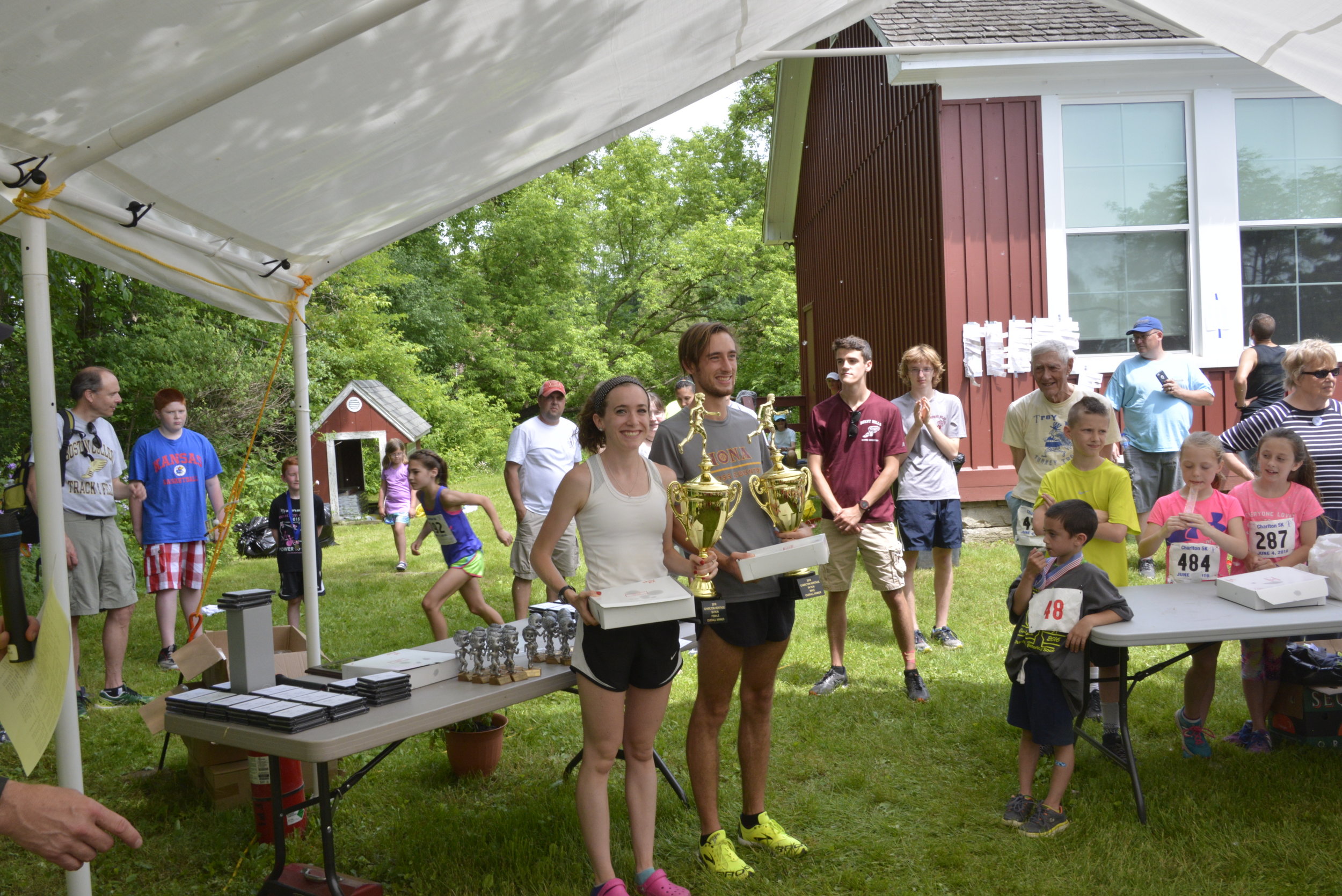 EMERICH SALES & SERVICE
187 Valentine Road
Charlton, NY 12019
518 399-8574
FRIDHOLM PAINTING & REMODELING
1 Fridholm Drive
Burnt Hills, NY 12027
518 330-9507
GIL'S GARAGE
817 Saratoga Road
Burnt Hills, NY 12027
518 399-4976
HOSKINSON ORTHODONTICS
207 Mohawk Ave.
Scotia, NY 12302
518 372-3424
JUMPIN' JACKS DRIVE-IN
5 Schonowee Avenue
Scitia, NY 12302
518 393-6101
MAIL N MORE
690 Saratoga Road
Burnt Hills, NY 12027
518 399-3279
MORRIS FORD
872 Saratoga Road
Burnt Hills, NY 12027
877 338-9606
ODORLESS SANITARY CLEANERS
392 Stage Road
Charlton, NY 12019
518 399-3482
PRICE CHOPPER SUPERMARKETS
290 Saratoga Road
Scotia, NY 12032
PRO-CUT LANDSCAPING SERVICES
P.O.Box 341
Burnt Hills, NY 12027
518 399-7443
REGULAR'S LIQUOR CABINET
443 Saratoga Road
Scotia, NY 12302
518 399-1405
R.M. PENA WINDOWS
761 NY-50
Burnt Hills, NY 12027
518 384-7362
ROY OYANGEN, D.M.D.
Advanced Aesthetics Dentistry
113 Saratoga Road, Suite 101
Schenectady, NY 12302
518 399-4696
SCHRADER & COMPANY, INC.
850 Saratoga Road
Burnt Hills, NY 12027
518 399-1881
TOWNLEY & WHEELER FUNERAL HOME
21 Midline Road
Ballston Lake, NY 12019
518 399-5022
1ST NATIONAL BANK OF SCOTIA
201 Mohawk Avenue
Scotia, NY 12302
(518) 370-7200
ALBANY MED
Emurgent Care
115 Saratoga Road
Glenville, NY 12302
(518) 264-9000
ADIRONDACK BEVERAGE
701 Corporation Park
Scotia, NY 12302
518 370-3621
ALAN R. GRATTIDGE
Charlton Town Supervisor
BURNT HILLS OPTICAL
793 Route 50
Burnt Hills, NY 12027
518 399-6130
BURNT HILLS VETERINARY
HOSPITAL
145 Goode Street
Burnt Hills, NY 12027
518 399-5213
CAPITAL DISTRICT STAIRS
4074 Jockey Street
Charlton , NY 12019
Paul Nikiforov
518 527-4830
BURNT HILLS-BALLSTON LAKE
TEACHER'S ASSOCIATION

CHARLTON SEPTIC SERVICE
4015 Jockey St.
Charlton, NY 12019
518-399-1323
CHRISTOPHER NYHAN
Financial Advisor
Edward Jones
801 Saratoga Road
Burnt Hills, NY 12027
518 399-5087
CULLIGAN WATER
OF SCOTIA
1 Culligan Rd
Scotia, NY 12302
518 618-2020
ELLMS CHRISTMAS TREES
468 Charlton Road
Ballston Spa, NY 12020
Chip and Sally Ellms
518 885-7377